Atonra in China – Building a partnership through on-site company visits
Earlier this month, together with our local partner we organized a business trip across China to visit ten companies we are invested in, and to understand the country better. The outcomes of this research trip exceeded our expectations.
Bottom line
Conducting on-site visits gave us valuable insights into the trends and sentiments within our three sectors (technology, renewable energy, and healthcare). We met some innovative companies that grow their business nicely, focusing on execution while mitigating the geopolitical risks or taking advantage of the incoming subsidies (especially in renewable energy). Moreover, China focuses on technology, which also impacts the evolution of its society. It is "the" mobile nation, years ahead of us.
We remain constructive on our Chinese exposure. We expect, in the short term, a series of stimuli. In the long term, the institutionalization of the market as the country is reforming its pension system will be a game changer.
What happened
China accounts for ~18% of the global GDP. But as the geopolitical and economic center of gravity is moving East, the investment case for China has evolved from "the engine of growth" to "a series of unbearable risk factors" – at least through the lens of some influent media and investors in the Western parts of the world. China is now among the most contrarian allocations, and investors are losing patience – high hopes, little results.
We invest where growth and innovation are. China has turned into a global leader in many technologies. Our exposure to China (currently 13% in The AtonRâ Fund) is probably higher than the average investor's.
We aim to invest in China with the mindset of a domestic investor. Over the long term, we believe it is essential to understand the local culture to avoid surprises related to business decisions. Making business in China is different from here; interpersonal connections play a significant role, and the government is never far away - at minimum through regulations. Nuances behind official communications and anticipating the likely next move would be difficult if we tried to act on our own.
It has been over two years since we partnered with Yinhua Fund Management, an asset manager with ~600 employees and ~$130bn under management. This collaboration takes the form of research meetings between their research department and our investment team. Following the reopening of the country after the strict zero-Covid policy, Yinhua suggested a visit to China.
Two people from our investment team traveled to China in early June. The trip had a double objective:
Strengthening our links with Yinhua.
Visiting companies in which we are invested.
Impact on our Investment Case
Throughout the week in China, we had the opportunity to meet ten different companies – 4 related to our Sustainable Future strategy, 4 to our technology strategies, and 2 to our healthcare strategies.
We must admit that these meetings were only possible thanks to our local partner and China International Corporate Corp (CICC), a leading investment bank in China. Some of the companies we visited usually do not open their doors to foreign investors, as communication may be an issue. A professional translator accompanied us during several meetings. While we were driving the discussions with the companies, Yinhua's and CICC's analysts also attended all the meetings.
Big cities, modern lifestyle
These companies were spread in four different cities; the smallest of them, Hefei, has almost the population of Switzerland! The city center of Shanghai is now surprisingly quiet; nearly half of the cars are already electric vehicles (EV).
China is the mobile phone nation. When Elon Musk wants to turn Twitter into a super app, we better understand what that means. Without WeChat by Tencent and other similar apps, it is tough for a foreigner to order a taxi or simply pay. Payment cards were not accepted even at the souvenir shop within the Baidu headquarters.
The role of WeChat to communicate has become essential. Most company meetings usually ended with an exchange of QR codes on WeChat. Analysts accumulate thousands of contacts on their personal phones and send direct messages and general public marketing content to their network via the app.
Making business abroad
Let's be realistic: >95% of the people in China do not care about politics and are only concerned about how they will pay their rent next month and put food on the table, like anywhere else in the world. But during most of our company visits, people were willing to learn more about our views on the country and all the geopolitical noise.
Beyond the discussions, Chinese companies all had a similar conclusion: they can only focus on what they can control, i.e., their business activities. However, we could note three different trends based on the sector of activity:
Renewable energy: While Chinese companies continue to develop their domestic markets, they're increasingly exploring overseas opportunities to maintain their rapid growth. These foreign markets present enticing prospects with potentially higher profit margins. This is the case, for example, of Sungrow, a leading solar inverter maker that is now penetrating the European market with its new residential inverter solution to compete with Solaredge and its peers.

Industry players in China's battery and solar sectors are vigilantly observing shifts in foreign policy, particularly the U.S. Inflation Reduction Act (IRA) and domestic content requirements. Their goal is to penetrate the U.S. market while capitalizing on available subsidies successfully. This has made them more receptive to the idea of forming partnerships, joint ventures, and in some cases, licensing their technology while forgoing equity ownership. Further guidelines from the U.S. Treasury Department will be crucial in shaping the approach of these Chinese entities toward U.S. expansion.
Healthcare: The companies we met duplicate production lines around the world to avoid any issues. For instance, a medtech company manufacturing pacemakers in Europe will open a production line in China, and the same company is building a stent factory in the U.S. to complement its Chinese production.

In the CDMO and CRO business, Chinese companies depend on their links with foreign entities. If, for some reason, it becomes impossible to outsource in China, then the entire industry will be in trouble. China is not only cheaper, it has also developed advanced technology to accelerate research and manufacturing processes while controlling the whole value chain.
Technology: The companies we visited focus on the domestic market, where they see huge potential. If they expand internationally, it will be in 3-5 years, and most of them would focus on countries along the Belt & Road Initiative, where China has a prominent influence.

Semiconductors and components were officially not an issue: they can have a local supply for the lower-end materials, and chips from Nvidia have been secured for this year's needs.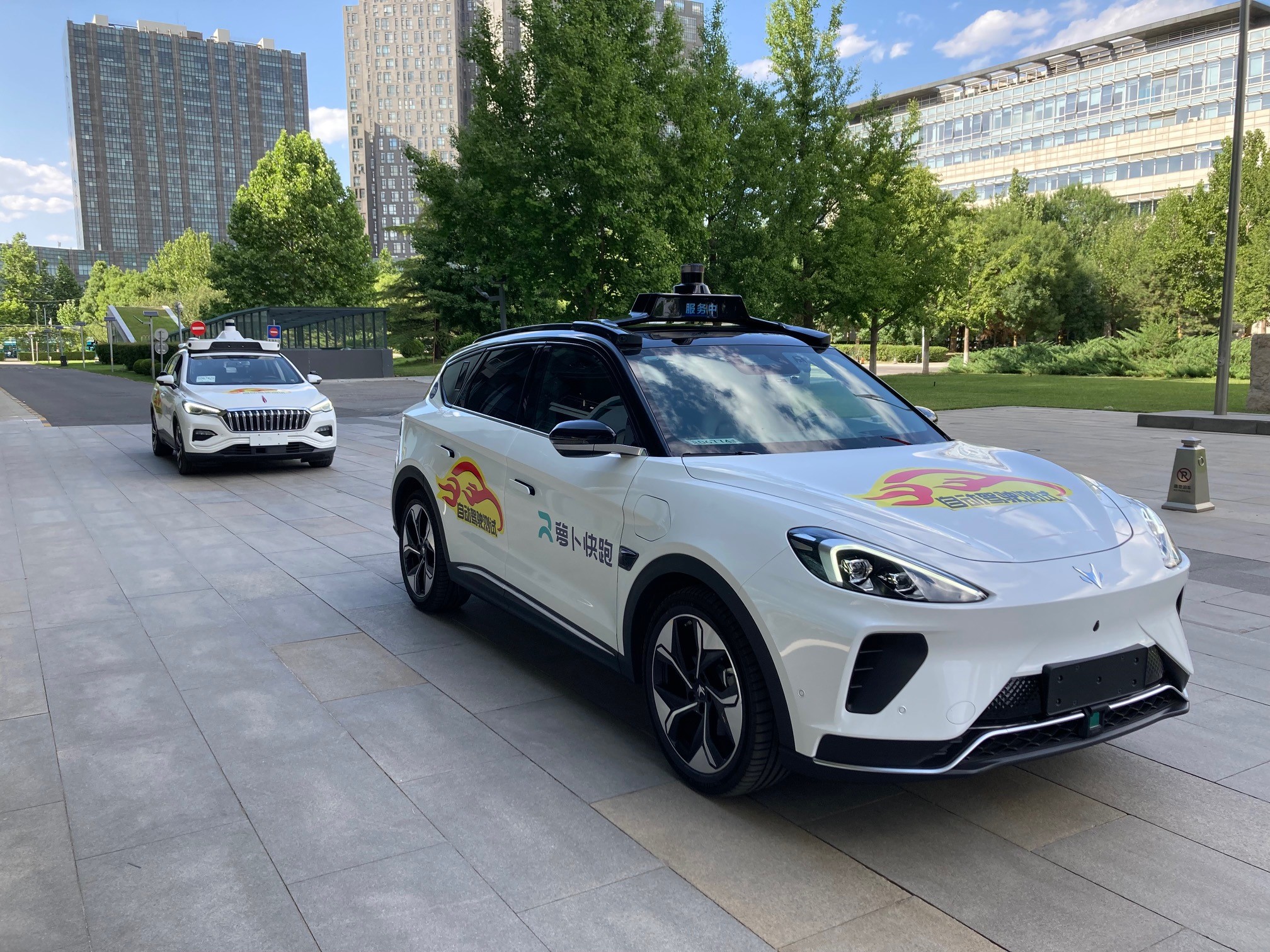 (Self-driving cars in front of Baidu's headquarters)
Business sentiment
The digitization needs in the country, for both private and public entities, remain massive. Some firms we visited went from a few employees to thousands in a decade. Everybody expects some form of government stimuli, which would boost revenue growth by a few percentage points.
Regarding battery manufacturers, which have suffered this year, we can note that they have responded to the high inventory levels through de-stocking and curtailing production to 50-60% of capacity for months. The trend is about to change now, with manufacturers anticipating a surge in demand for the latter half of the year. They are implementing capacity expansion both domestically and globally and are ramping production to reach full capacity again. This, in turn, is expected to rejuvenate the entire upstream value chain.
Similar views were provided by a CRO/CDMO player, another industry that has been under pressure lately. They expect a rebound in the activity by year-end, according to discussions held with their clients and prospects.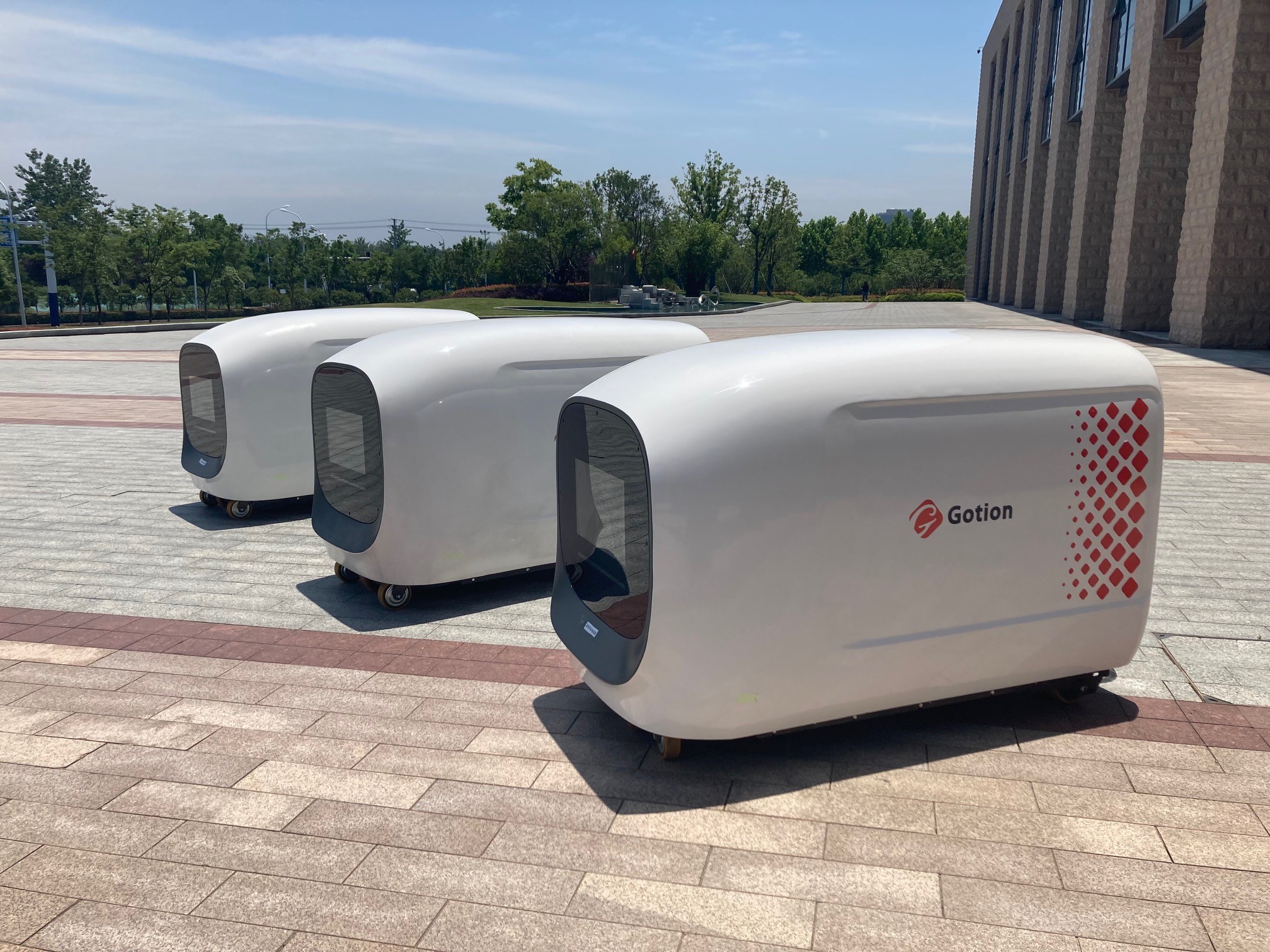 (Portable EV chargers developed by Guoxuan High-Tech - the EV infrastructure is obviously much more developed than here, given the higher penetration)
Financial markets
We sometimes hear about China that despite the results of the companies, the equity indices do nothing. A quick look at the top holdings of these indices will show that they are skewed towards Big Tech firms (that just went through a regulatory crackdown), financial behemoths, and a leading Chinese liquor company.
Like in any market, a company's performance may be totally different from its index. Our preferred sectors, high-quality companies in technology, healthcare, and renewable energy – i.e., the three pillars of China's 5-year plan, have had different returns. For instance, the contribution of our Chinese allocation has been positive in both our Sustainable Future and AI & Robotics strategies over the last three years, while the Chinese indices have remained flattish.
Several sell-side analysts we met were concerned that U.S. investors would not come back to the country. However, they did not have the same concerns over European investors. In a market highly driven by momentum, domestic investors want to know how foreign investors are positioned, while foreign investors want to know what domestic investors are buying.
Our view is slightly different: China's market does not need foreign investors to reach its next phase. In 2022, household deposits grew by $2.6tn (almost 2x the deposit growth of 2021). This money stays in cash and money market instruments, and eventually into the real estate market. Remember how the retail money from the Covid stimulus checks in 2020 boosted the U.S. market – if a fraction of the Chinese savings goes into the stock market, the dynamics will change.
The Chinese government is pushing to improve the financial literacy of its citizens. Yinhua recently launched an advisory business that also includes some fintech educational apps. Over 80% of the trading volume is done by retail investors, who track short-term trends. Such a market structure is unique.
With the ongoing reforms of the retirement system, we believe that the participation rate of institutional investors will surge. As the public system is about to require significant funding (through a revaluation of state-owned enterprises?), companies are now encouraged to provide pension schemes. And employees can also contribute up to RMB 12'000 (~$1'700) per year in some private plans, similar to our third pillar in Switzerland. These flows will be invested in stocks – sooner or later.
Our Takeaway
This journey to China helped us strengthen our links with Yinhua. Nothing can replace face-to-face interaction. Our investment process for Chinese stocks will surely benefit from the hours (the travel distances from one company to another were big!) of brainstorming and debates about how to address the Chinese stock market. While we look forward to our next research meetings, other substantial projects are now underway, and we can't wait for them to materialize. Just stay tuned!
Also, going to China has helped us better understand how the Chinese economy works, especially the links between the various stakeholders. Like any country in the world, it is a complex system. We tend to receive overly-simplified views from the Western media, and that usually just adds noise to the market.
We stick to our strategy of looking for innovative Chinese companies with high entry barriers, pricing power, and execution capabilities. Most of our visits reassured us. And when this was not the case, we have already started reviewing our investment case and preparing to make the necessary portfolio adjustments.
To reduce the geopolitical risk, we will still favor domestic companies or companies that have the financial resources and offshore network to produce abroad without impacting margins.
This results in some companies that have attractive valuation metrics and have outperformed the market over a cycle. Given the powerful trends and drivers in their respective sectors, these companies should keep adding value to our strategies. The following table highlights how our average Chinese holding compares to The AtonRâ Fund, our multi-strategy portfolio (which includes these Chinese stocks).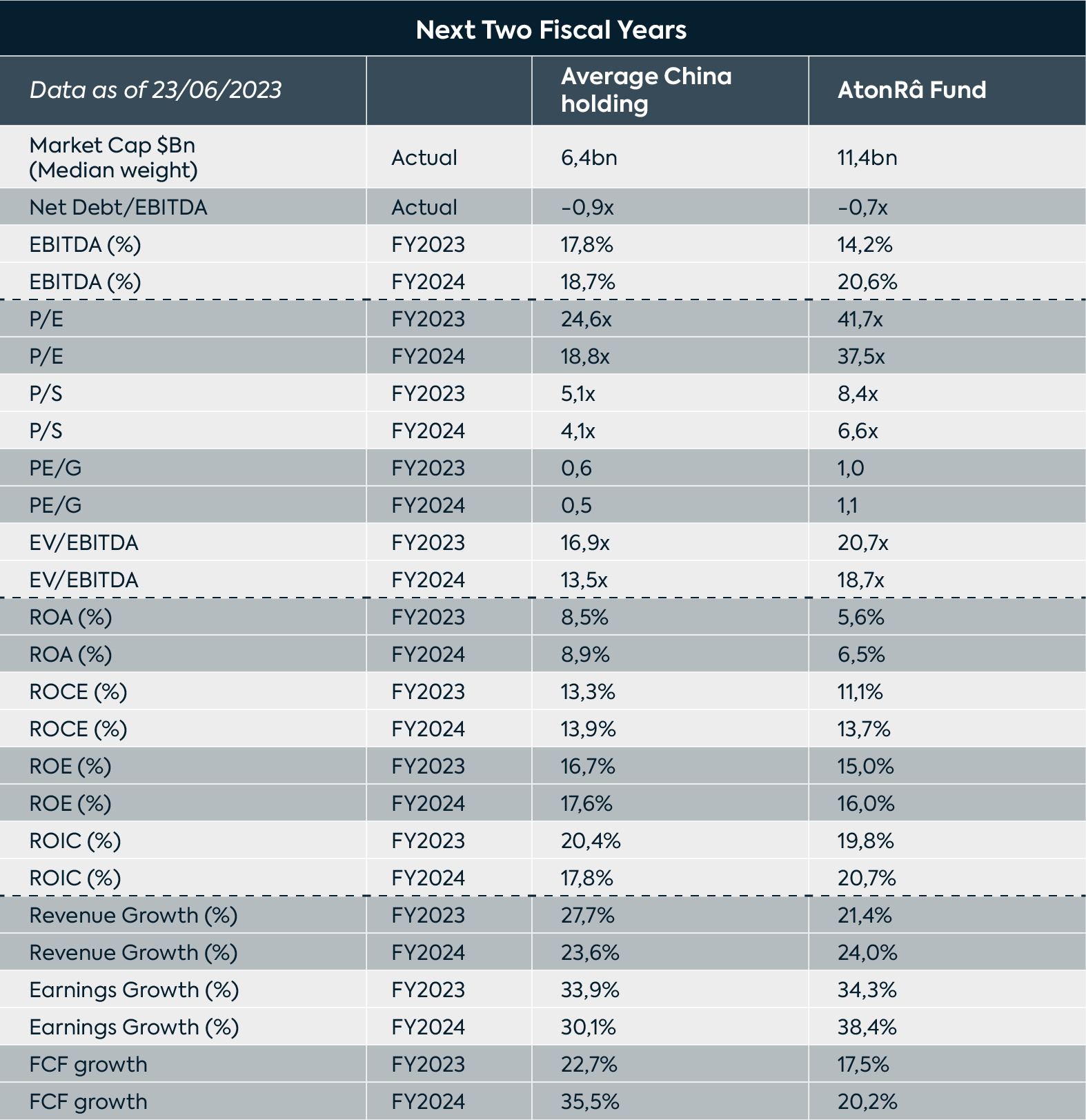 Companies mentioned in this article
Baidu (9888); Guoxuan High-Tech (002074); Nvidia (NVDA); Solaredge (SEDG); Sungrow (300274); Tencent (700); Twitter (Not listed)
Back to all articles
Explore:
Disclaimer
This report has been produced by the organizational unit responsible for investment research (Research unit) of atonra Partners and sent to you by the company sales representatives.
As an internationally active company, atonra Partners SA may be subject to a number of provisions in drawing up and distributing its investment research documents. These regulations include the Directives on the Independence of Financial Research issued by the Swiss Bankers Association. Although atonra Partners SA believes that the information provided in this document is based on reliable sources, it cannot assume responsibility for the quality, correctness, timeliness or completeness of the information contained in this report.
The information contained in these publications is exclusively intended for a client base consisting of professionals or qualified investors. It is sent to you by way of information and cannot be divulged to a third party without the prior consent of atonra Partners. While all reasonable effort has been made to ensure that the information contained is not untrue or misleading at the time of publication, no representation is made as to its accuracy or completeness and it should not be relied upon as such.
Past performance is not indicative or a guarantee of future results. Investment losses may occur, and investors could lose some or all of their investment. Any indices cited herein are provided only as examples of general market performance and no index is directly comparable to the past or future performance of the Certificate.
It should not be assumed that the Certificate will invest in any specific securities that comprise any index, nor should it be understood to mean that there is a correlation between the Certificate's returns and any index returns.
Any material provided to you is intended only for discussion purposes and is not intended as an offer or solicitation with respect to the purchase or sale of any security and should not be relied upon by you in evaluating the merits of investing inany securities.
Contact